Our Impact
Bedtime in a Box helps families set the foundation for learning by creating routines that bring about healthy habits, strong connections and academic growth in young children. By giving parents/caregivers the tools to nurture their children with books and other learning activities, they become their child's first teacher, help build a stronger bond and set them up for school success.
In our first year we supported 75 families. Two years later we have served over 1,900 families in the Baltimore region and in the coming school year we plan to serve an additional 3,000 families across the country. 
Bedtime in a Box has been highly successful in improving early indicators of success for children. During our initial two years of work, we've seen the number of minutes reading spent reading at home per week triple. We've also seen the number of families implementing a consistent bedtime routine nearly double This represents a significant increase in oral language development and improvements in sleeping patterns that support the development of healthy minds and bodies in children. We will continue to collect data on these indicators and others as we continue to support children and families as they prepare for school.
The proof is in the numbers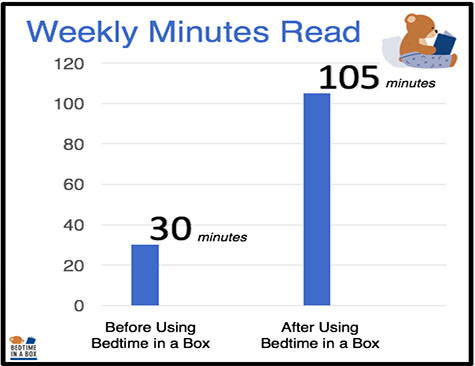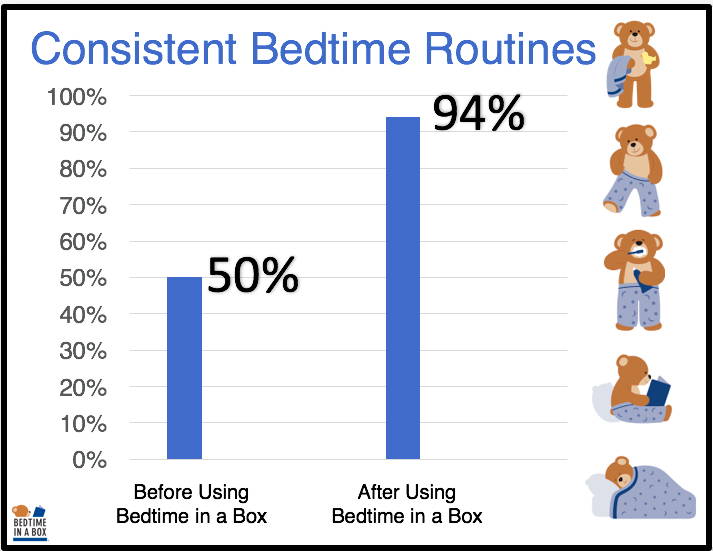 school involvement
We work closely with schools, early childhood programs and Head Start programs to reinforce the importance of reading and the nightly bedtime routine. The five books included in the box are selected to complement the instruction in the classroom and build the background knowledge and habits for children to excel in school.  
We have worked with over 30 schools and educational organizations to date. If you'd like to bring Bedtime in a Box to your school or organization, please contact us.